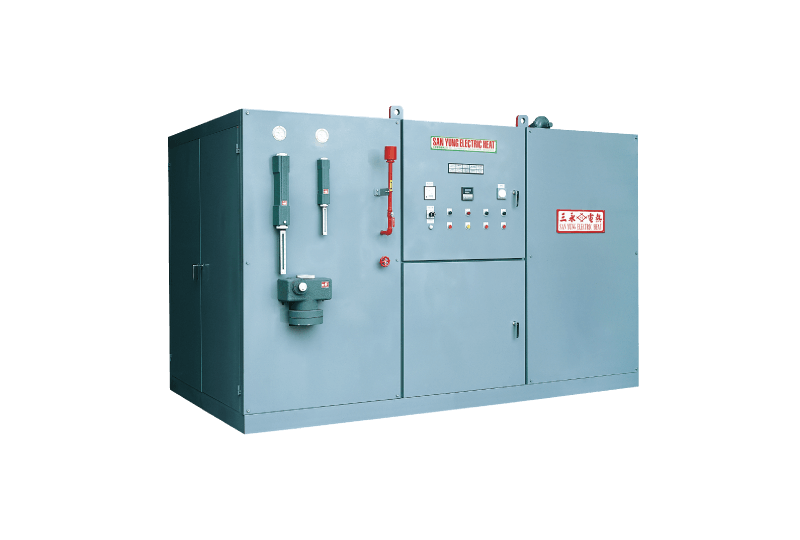 SY-813
Exothermic Gas Generator
Application
Continuous blackening tempering treating to metal parts(Treating temperature must be above 450℃)
Features
Rich is deoxidation gas, weak decarbonization, little carbon lost, suitable for low/middle carbon's bright quenching, annealing, welding, etc.
Lean is oxidation gas, strong decarbonization, no carbon lost, suitable for middle carbon's blackening treating and bright annealing for copper and alloy metal.
Use the heating type gas generator gas blacking system, can not achieve the effect of salt spray test.
Specification
Model
Gas Producing Capacity
(m3/hr)
Power
(kw)
Outside Dimension
(m/m)
Width
Height
Length
SY-813-1
60
1.5
1850
2100
3400
SY-813-2
80
1.5
1850
2100
3700
SY-813-3
100
2.25
2050
2250
3300
SY-813-4
120
2.25
2050
2250
3600
SY-813-5
150
2.25
2050
2250
3900
Original Gas
Proportion of Gas & Air
Composition Range of Gas Generation
CO
CO2
H2
CH4
N2
H2O
CH4
1:6~9
8~1
7~10
15~10
approx.0
68~86
approx.2
C3H8
1:11~23
16~1
3~11
20~1
0
59~83
2
C4H10
1:13~30
18~1
2~3
22~1
0
56~83
2
| | CO2 | CO | H2 | CH4 | H2O | N2 | Dew point |
| --- | --- | --- | --- | --- | --- | --- | --- |
| DX Lean | 10.5 | 1.5 | 0.8 | 0.0 | 0.8 | 86 | +5 |
| DX Rich | 5.0 | 10.5 | 12.5 | 0.5 | 0.8 | 70.7 | +5 |

Professional Heat-Reatment Furnaces Manufacturer