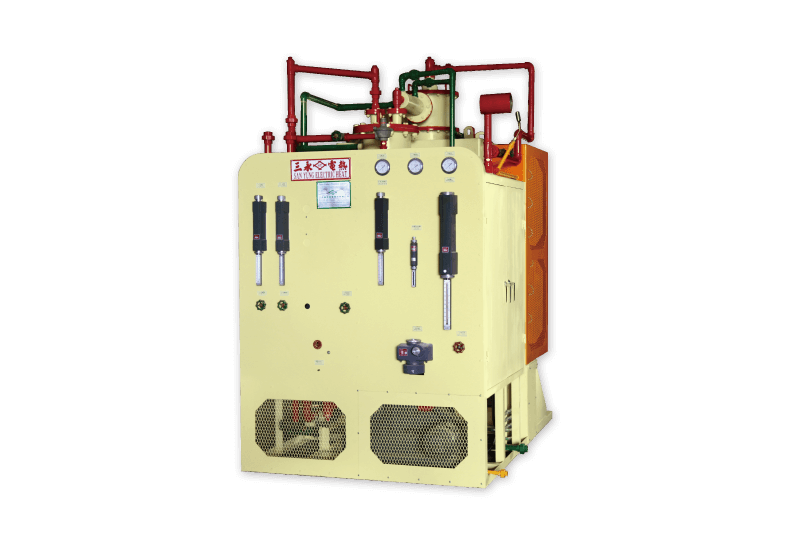 SY-801
Endothermic Gas Generator
Features
Gas control with protection system, safe and durable for use, stable control on dew point control with precise indication, available to be connected with CO₂ controller for auto control purpose.
Heater's design with high efficiency, and the furnace can be opened for convenient maintenance and repair purpose.
Reserved connectors for simple and easy cleaning the trash inside the pipe.
Specification
Model
Gas Producing capacity
(m3/hr)
Power
(kw)
Outside Dimension
(m/m)
Width
Height
Length
SY-801-A
15
34-42
1530
2750
2200
SY-801-1
20
34-42
1530
2750
2200
SY-801-2
25
34-42
1530
2750
2200
SY-801-3
30
34-42
1530
2750
2200
SY-801-4
35
34-42
1530
2750
2200
SY-801-5
45
34-42
1530
2750
2200
SY-801-6
55
34-42
1530
2750
2200
SY-801-7
75
50-55
1800
2750
2500
SY-801-8
75
50-55
1800
2750
2500
| Gas Source | m | n | Gas/Air Ratio | Reforming Rate |
| --- | --- | --- | --- | --- |
| Methane CH₄ | 1 | 4 | 1:2:38 | 1.44 |
| Propane C₄H₈ | 3 | 8 | 1:7:14 | 1.55 |
| Butane C₄H₁₀ | 4 | 10 | 1:9:52 | 1.57 |

Professional Heat-Reatment Furnaces Manufacturer