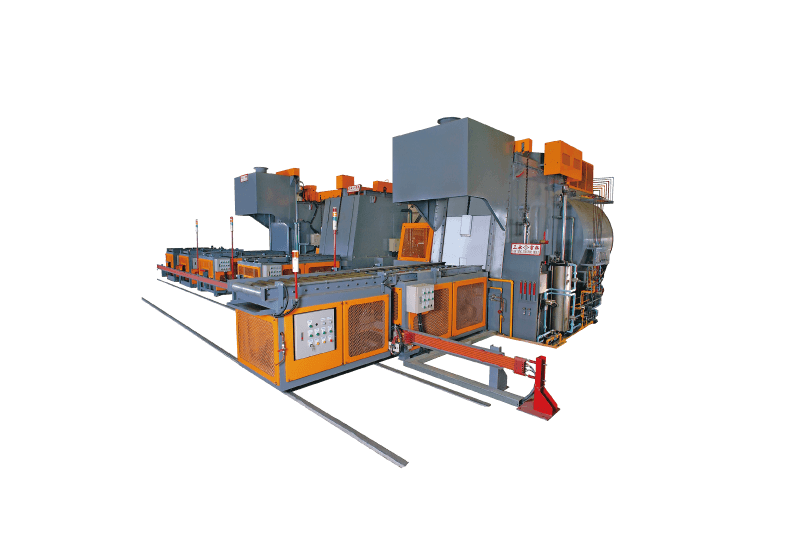 SY-701 Multi-Purpose Chamber Furnace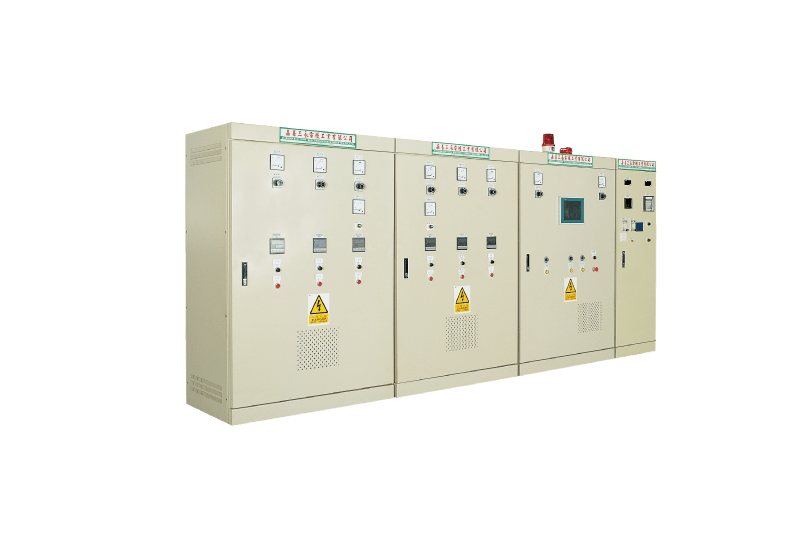 SY-701 Multi-Purpose Chamber Furnace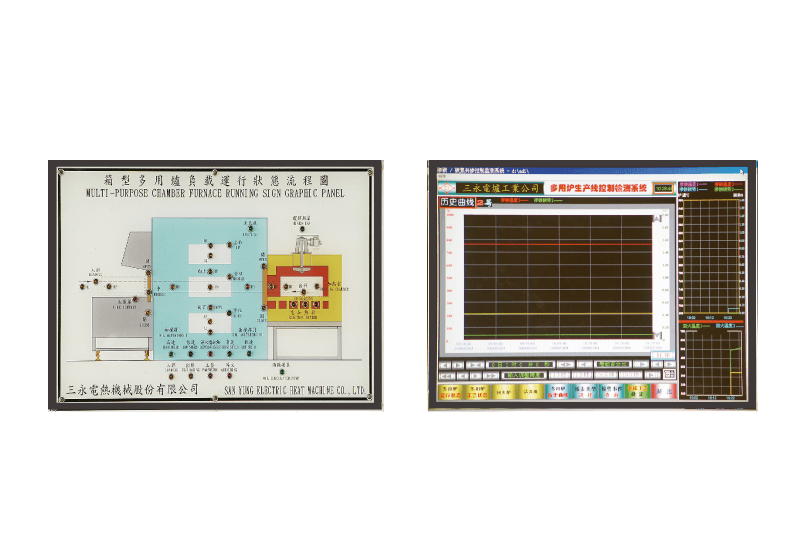 SY-708 Computer Program Control System
SY-701
Multi-Purpose Chamber Furnace
Application
Multi-Purpose Chamber Furnace collocation with Washing, Tempering, Loading and Unloading Station composed of heat treatment production line, suitable for carburizing, hardening, carbonitriding, surface covered with carbon, bright quenching…etc. multiple heat treatment process.
Features
Temperature control system: Furnace adopts SSR and PID adjustment temperature.
Carbon potential control system : adopts O2 oxygen probe and USA carbon potential controller, can be precisely controlled atmosphere.
Action program control system :
- Adopts PLC automatic operation the program action.
- According to customer requirements, industrial PC can be configured as a master position, monitored for temperature, carbon potential action program control system, participate in the development process, process management, and dynamic tracking control with LCD display and recording functions.
Specification
The Output and Electricity of Full-Line Multi-Purpose Chamber Furnace
Model
Effective Dimension
(m/m)
MAX.
Productivity / Furnace
(kg)
Heating
Power
(kw)
Top
Temperature
(℃)
Heating Ability
To 850℃
(kg/h)
Capacity of
Quenching
Oil TankL
Outside Dimension
(m/m)
Width
Length
Height
Width
Length
Height
SY-701-1
600
1200
600
600
115
950
475
7600
3065
5174
3755
SY-701-2
700
1200
700
800
126
950
540
8500
3165
5174
3955
SY-701-3
760
1200
800
1000
135
950
565
9500
3225
5174
4155
SY-701 Quenching Furnace
Model
Outside Dimension
(m/m)
Capacity of Quenching Oil
(L)
Output
(kg)
(Quenching Oil)
Top Temperature
(℃)
Top Temperature
(℃)
(Quenching Oil)
Power
(Kw)
Power
(Kw)
Effective Dimension
(m/m)
Width
Length
Height
Width
Length
Height
SY-701-1
2920
5044
3914
7600
600
120
950
60
115
600
1200
600
SY-701-2
3020
5044
4014
8500
800
120
950
60
126
700
1200
700
SY-701-3
3080
5044
4114
9500
1000
120
950
60
135
760
1200
800
SY-702A Degreasing Tank
Model
Outside Dimension
(m/m)
(Capacity of Degreasing Tank)
Cleaning Agent Tank / Water Tank
(L)
(Degreasing Circulation Pump)
Cleaning Agent Tank / Water Tank
(Hp)
(Power)Cleaning Agent Tank /
Water Tank / Drying
(Hp)
Effective Dimension
(m/m)
Width
Length
Height
Width
Length
Height
SY-702A-1
2090
3700
3000
3000 / 2500
2 / 3
72 / 36 / 45
600
1200
600
SY-702A-2
2190
3700
3100
3200 / 2700
2 / 3
72 /36 / 45
700
1200
700
SY-702A-3
2250
3700
3200
3400 / 2900
2 / 3
72 / 36 / 45
760
1200
800
SY-702B Degreasing Tank
Model
Outside Dimension
(m/m)
Capacity of Degreasing Tank
(L)
Degreasing Circulation Pump
(Hp)
(Power)
Cleaning Agent Tank
(Kw)
Effective Dimension
(m/m)
Width
Length
Height
Width
Length
Height
SY-702B-1
1780
3000
3225
3500
3
72
600
1200
600
SY-702B-2
1880
3000
3325
3700
3
72
700
1200
700
SY-702B-3
1940
3000
3425
3900
3
72
760
1200
800
SY-703 Tempering Furnace
Model
Outside Dimension
(m/m)
Output
(Kg)
Top Temperature
(℃)
Power
(Kw)
Effective Dimension
(m/m)
Width
Length
Height
Width
Length
Height
SY-703-1
1610
2200
3230
600
700
70
600
1200
600
SY-703-2
1710
2200
3330
800
700
90
700
1200
700
SY-703-3
1770
2200
3430
1000
700
115
760
1200
800
SY-704 Preparatory Table
Model
Outside Dimension
(m/m)
Roller Driving Device
Geared Motor
(Hp)
Effective Dimension
(m/m)
Width
Length
Height
Width
Length
Height
SY-704-1
900
1700
1100
1
600
1200
600
SY-704-2
1000
1700
1100
1
700
1200
700
SY-704-3
1060
1700
1100
1
760
1200
800
SY-705 Receiving Table
Model
Outside Dimension
(m/m)
Roller Driving Device
Geared Motor
(Hp)
Effective Dimension
(m/m)
Width
Length
Height
Width
Length
Height
SY-705-1
900
1700
1100
1
600
1200
600
SY-705-2
1000
1700
1100
1
700
1200
700
SY-705-3
1060
1700
1100
1
760
1200
800
SY-706 Loading Unloading Transported Cart
Model
Outside Dimension
(m/m)
Roller Driving Device
Geared Motor
(Hp)
Trolley Running Device
Geared Motor
(Hp)
Effective Dimension
(m/m)
Width
Length
Height
Width
Length
Height
SY-706-1
900
1740
1100
1
1
600
1200
600
SY-706-2
1000
1740
1100
1
1
700
1200
700
SY-706-3
1060
1740
1100
1
1
760
1200
800
Professional Heat-Reatment Furnaces Manufacturer