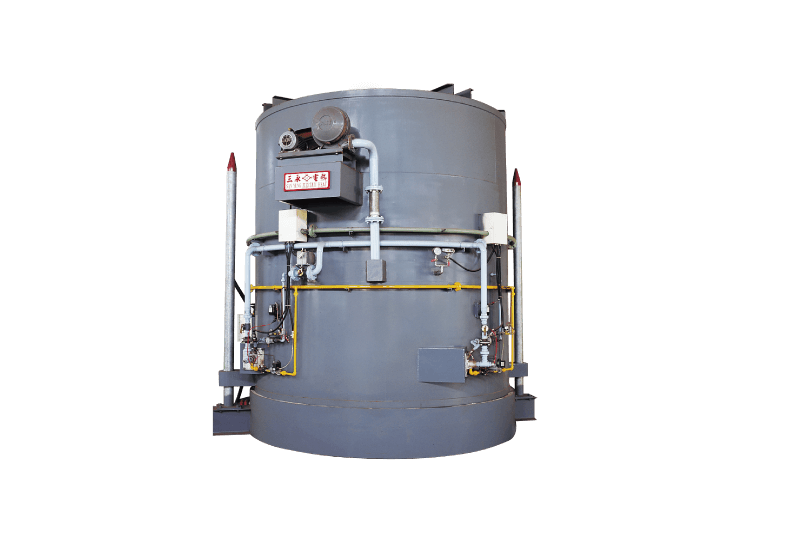 SY-632G
Bell Type Annealing (Spheroidizing) Furnace [Gas Burner Heating Type]
Application
Spheroidizing annealing & bright annealing for middle/low carbon wire material, annealing for steel belt, and heat treating for copper.
Features
Gas burner heating type.
Heavy duty big agitating fan, high convection current circulation system to shorten the time to rise temperature and to make material's temperature uniform so that uniform quality can be made during the annealing procedure.
Adopt high-performance gas burner. It also equipped with auto-ignition system and safety inspection system to ensure operation safety.
Adopt O₂ control system to automatically control carbon potential working with temperature program control system, it can lead in protective gas automatically. Labor force is saved.
Specification
Model
Outside Dimension
(m/m)
Protective Tank Size
(m/m)
Effective Dimension
(m/m)
Output (Furnace)
(kg)
Combustion Ability
(kcal/hr)
SY-632G-1
Ø3280 x H3620
Ø2100 x H3070
Ø1900 x H2100
3000
280000
SY-632G-2
Ø4380 x H4920
Ø3200 x H4370
Ø3000 x H3400
13500
840000
* Capacity : Calculated by Coil size O.D. 1250mm x Height x 1000mm, Weight 1.5 Tons.
* Heating type can also adopt electric heating, size & specification can be custom made.
Professional Heat-Reatment Furnaces Manufacturer